The holidays are fast approaching and with that comes the season of gift giving. Tech gifts can be difficult since everyone has their preferences when it comes to things like devices and peripherals. Some things, like accessories, can make great gifts since they can fit into a rotation of other similar items. For example, having a couple different smartwatch bands or phone cases can be nice to fit different moods or have backups. Since these things tend to be more disposable, this year, we at Copper Rhino are featuring different sustainable accessories. The tech industry is notoriously resource-hungry and it's nice to have some items that remind you that it doesn't have to be that way. From a bag made from a repurposed billboard, to a phone case made from flax chaff, companies are figuring out ways to lower their industrial footprint. Here are a few of our favorites.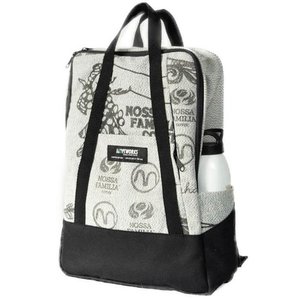 Portland, Oregon-based Looptworks repurposes and upcycles castoff materials into limited-edition products. One company's scrap is Looptworks' raw material. They produce a never ending variety of bags, packs, and clothes that are always changing due to the nature of using leftover materials. Our favorite is their line from fellow Portland brand Nossa Familia who are a coffee roaster with a passion for sustainably sourced coffee. If their coffee bean bags are sturdy enough to ship beans around the world, they can surely handle a laptop and some books. No word on whether they have that fresh java smell.
A fleece sweater that is full of holes doesn't make for a good sweater. It might, however, have enough good fabric left for a few scarves or wine totes. That's where ReFleece comes in. They partner with brands like Patagonia and Acr'teryx to upcycle used and scrap outdoor gear (and not just fleece, either) into bags and sleeves for your groceries or electronics. We love their felted Mini iPad sleeve. It's slim and classy. It also may have been on untold adventures around the world. How's that for a gift with a story?
Pela envisions a future world without waste. They call it their "big, hairy, audacious goal." They make a long line of phone cases and other device cases and accessories from waste straw left over from flax farming. This makes their products biodegradable and compostable. After all, why have a plastic phone case that lasts for hundreds of thousands of years when you'll get rid of your phone after just a small fraction of that? If you prefer to keep your phone naked this Saskatoon, Canada-based company also makes sunglasses, smart watch bands, and even a line of dog-centric gifts under their Barxby label. Maybe theirs is a big, furry, audacious goal, too.
How much time do you spend thinking about billboards? Well, we're about to increase that. You see, Rareform takes these mammoth, vinyl banners and upcycles them into usable products. Vinyl's strength is also its curse: it is durable, but not traditionally recyclable. This means it sits in landfills for an astronomically long time. Rareform intercepts these landfill-loiterers; cleans them up; cuts them by hand in their Agoura Hills, California warehouse; and fashions them into a variety of things like bags, wallets, and luggage tags. Check out their Beck Cooler Bag. It takes advantage of vinyl's water resistance and adds insulated closed-cell foam. With space for up to 18 cans, it's a perfect gift for the beach goer, tailgater, or camper in your life.
As Mountain Keyboards says, "What good are keyboards without a fancy artisan keycap on it?" In case you haven't found just the right one yet, Mountain has you covered in a way that does some good while flashing some style. Not only does their "For Good" keycap provide a bold, red accent, but for every cap purchased the Australia-based brand will donate the full purchase price to the New South Wales Food Bank. Keep some aluminum out of the landfill, give some food to a person in need, and adorn your keyboard with a nice R1-profile keycap. Everybody wins this holiday season.