Stop overspending on your tech. It's a simple message that tends to get lost with today's Mars-bound marketing budgets lighting up your feeds with all of the latest must-haves. Malaysia-based The Bucket List Tech (@thebucketlisttech on IG) is here to bring things back down to Earth. We got a chance to sit down with their founder James and see how this philosophy plays out with him and his personal desk setup.
This ethos took root with James early in his life when a Gateway computer came into the house. He was 13, and he immediately started building custom PCs. When he realized the value – and fun – in this approach, he never bought a prebuilt PC again. He is also lucky enough to have a relative who worked for Apple, so he has decades of experience with both the PC and Mac worlds. To this day, he enjoys the interconnectedness of the Apple ecosystem while running a PC for limitless gaming.
In advocating for consumers, it's not hard to learn about the most expensive model. Just look to the brands. They love to talk about them. Finding better value is a trickier proposition. That's where The Bucket List Tech comes in. Here is some value straight from the source and a peek at James's personal setup.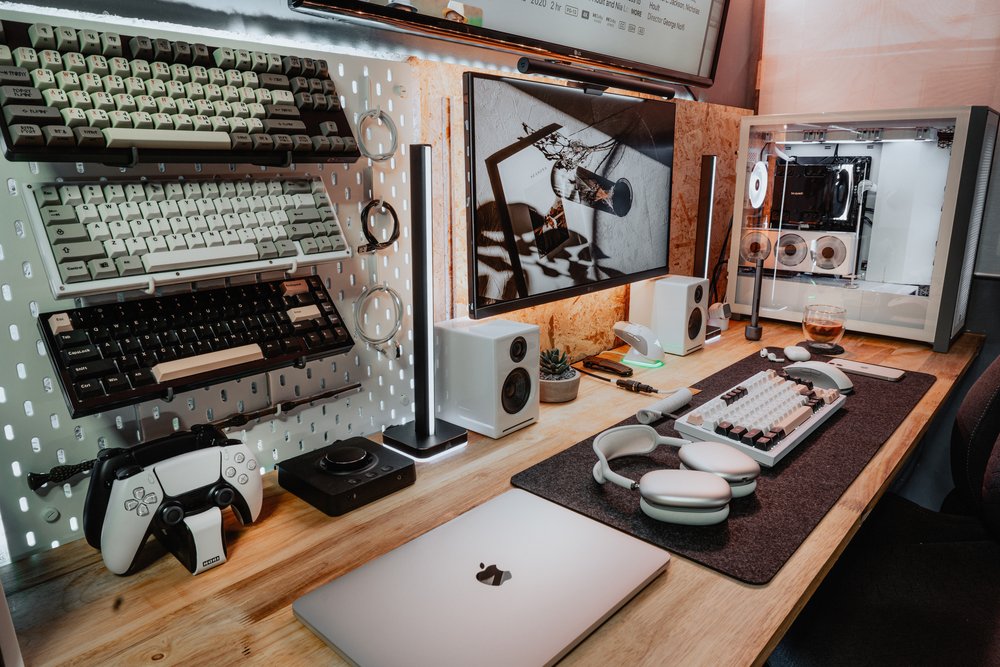 People get into gaming and they love to go overboard on their graphics cards. Why? If you're just gaming for fun and not a pro, keep it to the 3060 level and you'll be perfectly happy. You probably wouldn't notice the upgrade to Ti anyway and the money for anything beyond that can be better spent elsewhere.
It features great color accuracy and 240Hz at a steal of a price. "I always try to push LG as much as possible because the new LG UltraGear monitors are really good for both productivity (like graphic design) and gaming."
When it comes to keyboards, James's experience shows right in his setup. Multiple keyboards are always on display. From Razer keyboards, to a Keychron with Razer keycaps, to bespoke custom builds, to taking on clients and building keyboards to their specifications, he's been there, done that, and got the keyboards. The main lessons learned along the way, "Just buy based on your means. You don't have to actually buy the best of the best, and price doesn't equal quality."
Even with his experience, James still did three months of research before settling on the Q1. YouTube sound tests, reviews, and the Keychron Facebook page are just some of the resources he scoured to make sure. The Q1's 75% layout is his favorite for one specific reason, "I can't live without my F keys." When it arrived, he was impressed with it right out of the box, but it still wasn't perfect. The Shell White version ended up being a v1, which has a case ping issue and some interference with SA and MT3 keycaps that are fixed in the v2 boards. Finally, well, as you might have guessed he's going to mod it anyway. When you know how to make it just right, you'll never settle for less.
These are good value switches that are good enough for gaming and for productivity. They also have the feel and sound that he likes. "I just love the sound. It's really poppy. I'm a heavy-handed guy, so I don't mind the heavier springs."
As a hardcore Lord of the Rings fan, these are keycaps James waited a long time for. Add the shipping cost and time to get to Malaysia and the purchase was significant. After all of that, when he opened the box, the color didn't match the photos. Imagine the disappointment. Despite this, the Dwarvish keycaps remain his favorite, if for their uniqueness alone.
It's pricey. There's no way around it (though it helped that a relative worked for Apple). The convenience and seamless interaction are what make the Apple products worth the investment. And they are an investment. He tends to keep his machines for years and not just hop on every new release. If you're going to save up for something big, it had better last.